Anti-fascist groups demonstrated on Saturday in the Italian city of Macerata, where an ultra-right-wing fired six African immigrants in an initiative supported by the new progressive party Free and Equals.
The fact that Macerata turned immigration and racism into the center of the election campaign debate.
The demonstration was not authorized by the Interior Ministry until last night when organizers assured it would be totally peaceful.
However, the town council of this small town of 41 thousand inhabitants ordered to close all the stores and to suspend the classes in the institutes (Saturday is a day in Italy), before possible incidents between the antifascists and the ultra-right ones.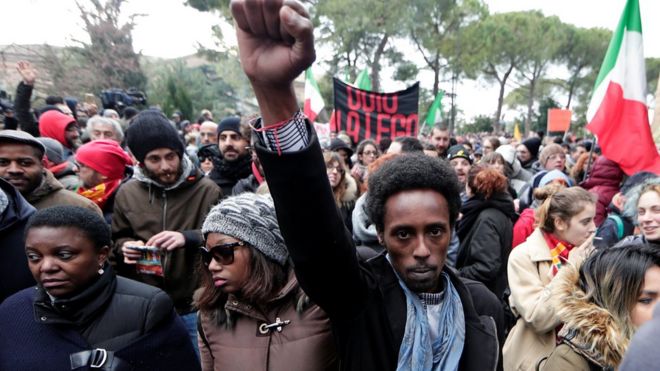 On Thursday, 100 sympathizers of the neo-fascist Forza Nuova formation demonstrated through the streets of Macerata, although the demonstration was banned, to support the "revenge" of one of its candidates, Luca Traini, against the immigrants.
Traini fired on immigrants for "revenge" after the murder of 18-year-old Pamela Mastropietro, allegedly murdered by a Nigerian drug dealer.
On this occasion, the group carried out clashes with the police when trying to have access to the center of the city and there were at least six people injured and a dozen were detained.
At today's demonstration, which was expected to attend about 5,000 people, joined anti-fascist groups, unions and humanitarian organizations such as Emergency.
Faced with the heavy atmosphere in Macerata, the Democratic Party (PD) of Matteo Renzi chose not to participate.
The mayor of Macerata, Romano Carancini, explained that he will not be present because "the city was not prepared for this" and that "it was not necessary to manifest a few days of this tragedy", but assured that "it will be with the heart along with all democratic forces that will march, "in an interview with the newspaper Fatto Quotidiano.